Preliminary English education starting from Elementary school
Ivy House was opened in April 2012,and our courses are taught after school  primarily in English by native language instructors.
For the international courses,we utilize an immersion system in which Elementary school students  can learn about their class subjects;math, science,and social studies entirely in English.
For the Junior Prep courses, which consist of 5th and 6th grade students, we focus on reading,writing,listening,and speaking skills in English.Our goal is to help prepare them for their English classes in Junior High school.
Likewise,the Junior High School courses focus on reading,writing,listening,and speaking skills.Depending on the level of the course, students will also learn to develop specialized skills, for example; essay writing, debating, preparing for presentations, and more.
With the 2020 Tokyo Olympics approaching, there will be a significant change in the Japanese educational system. This change will be centered largely on English acquisition in school.
In addition to covering grammar on the writing section of the entrance examination,the students' listening and speaking abilities will also be tested. For this reason,it is  necessary to master all four of the above mentioned skills.Which are often difficult for students to acquire at school and cram school alone.Therefore it is our school's mission to help them do so at Ivy House.
Educational philosophy of Ivy House
Our Education philosophy is to provide children with the knowledge and linguistic ability which will enable them to contribute to society at home and throughout the world.
Learning style at Ivy House
Most importantly students learn how to communicate in English (listening speaking reading and writing).
Since our priority is self-expression, students learn to develop presentation and debate skills in order to communicate their ideas and opinions effectively. In addition, students participate in manner and moral lessons which help prepare them to contribute to international society.
特徴
全レッスン英語教授資格(TESOL)を持つ外国人講師が担当
Ivy Houseでは全レッスンが外国人講師の授業です。生きた英語を学んでいただくだけでなく、コミュニケ―ション能力をしっかり付けてただきたいと思っております。経験が豊富なスタッフばかりなので安心です。
プレゼンテーションやディベートにも対応した実践的な英語教育
これからの英語教育は、語彙力、読解力だけではなく、伝える力も必要になってきます。自分の考えや調べたことを人前で伝えるための表現力を学び、英語で伝える力を育てていきます。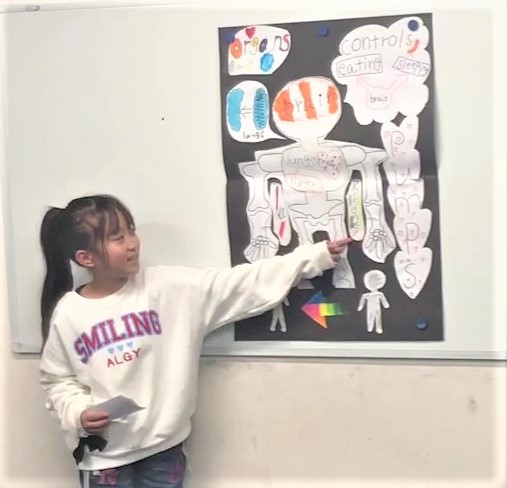 高い英検合格率の確かな実績!
Ivy Houseは『楽しいだけの英会話スクール』ではありません。楽しく学ぶことももちろん大切ですが、英語に多様性が求められる現在、学校英語・受験英語・英語資格なども大切だと考えております。
下の表はここ3年間の実用英語技能検定の受験結果です。小学3年生で5級・5年生で3級を目指しています。
英語4技能を習得できるレッスン内容
英語を総合的に学ぶためには4技能(読む・書く・聞く・話す)を身につけることが重要です。これらの力を育むために、効率的に習得できるように作られたオリジナルカリキュラムを採用し、英語力向上につなげます
安心の月謝制
「受験する際に授業料のローンを組まされ、内容に満足がいかなくても授業料が返ってこない・・・」
そんな英会話スクールが多い中で、Ivy Houseでは安心の月謝制を採用しております。提供するレッスンと講師に自信があるから、そして、ひとりでも多くの方に気軽に英語を学んでいただきたいという考えから安心安全の受講体制となっております。